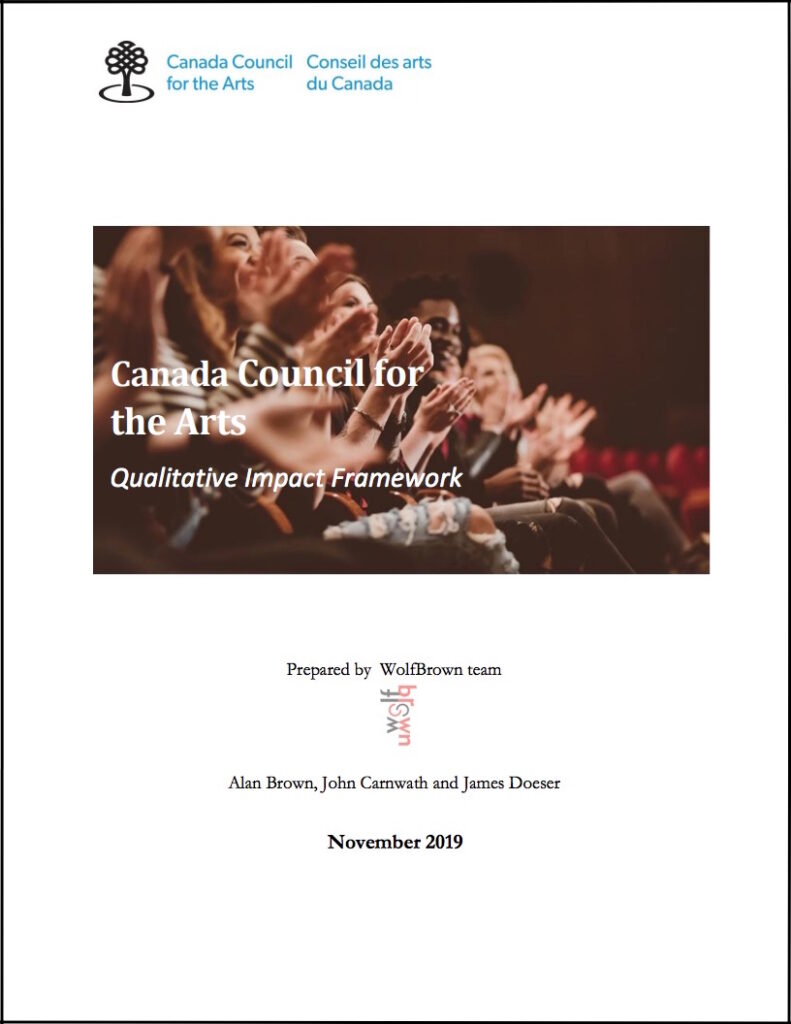 Across many developed economies, there is a drive to measure the impacts of the arts. Governments wish to measure the effects of their investments. Funders seek to spend finite resources in the most appropriate ways. Artists and cultural organizations want to understand and maximize the impact of their work on communities.
In late 2017, the Canada Council for the Arts contracted WolfBrown to develop a framework for measuring the intrinsic impacts generated by the Council's funding.
The Impact Framework is intended to:
Provide the Canada Council with a blueprint for gathering evidence of the impact of its investments in artists and organizations.
Support artists and organizations in their efforts to understand and articulate the impact of their work.
Support critical self-reflection and inform the Canada Council's future strategic decision-making.
Forge partnerships to deepen the sector's understanding of the impact of the arts in the short and long term.
Canada's government and society are in many ways distinct from other societies. This reality and the associated complexities made it essential to create a unique impact framework for the Canada Council. For instance, education is the purview of the Provincial governments in Canada, so arts educations—which might be a central area of impact for other government funders—falls outside of the Canada Council's mandate and thus is not included in the Framework. Nonetheless, many principles and approaches outlined in the Framework may also apply in other funding contexts.
The Framework recognizes that impacts occur on a continuum of attribution by distinguishing between upstream and downstream impacts. Upstream impacts are those most directly related to the Council's funding, such as increased capacity of artists and organizations. Downstream impacts result from peoples' experiences of the art. The Council cannot take full credit for the downstream impact of the work on audiences and communities as it is clear that many people and many funders contribute to the grantees' successes.
Ultimately, the Framework suggests that the story of the Canada Council's intrinsic impact can be understood as an intertwining set of narratives stemming from its portfolio of grant programs and strategic commitments.
Visit the Canada Council for the Arts website for more information on the Framework.