Throughout history, technological breakthroughs have opened up arts experiences for new audiences, from the spectral illusions of "Pepper's ghost" (mid-19th century, the antecedent to contemporary holograms) to theater binoculars/opera glasses, projected supertitles, seatback caption displays, and now smartphone apps.
At every step, new technologies have been rejected as disruptive and antithetical to the live experience. Despite the best efforts of ushers, house managers, and sometimes artists, it seems increasingly impossible to stop audience members from using their phones during live performances. With digital natives now entering the marketplace for live arts programs, we are on a crash course with the expectations and norms of the next generation of theatergoers. How can nonprofit arts organizations safeguard their cherished norms of distraction-free experiences while embracing a new generation that expects increasingly immersive, interactive, and mediated experiences?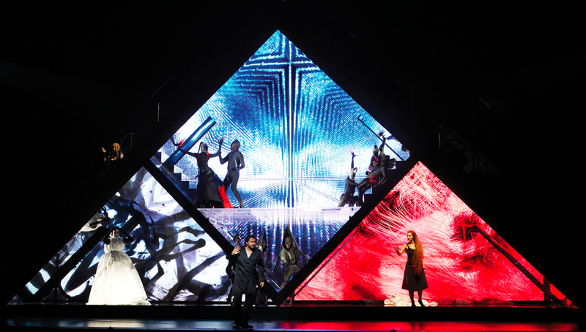 Today's audiences, well-acquainted with innovations in cinema (IMAX), gaming, and virtual reality, increasingly embrace inventive approaches to experiencing live performances. One of the latest reinterpretations of Giacomo Puccini's Turandot illustrates the fusion of theater and technology. This groundbreaking production, a collaboration between director Daniel Kramer and Japanese immersive art collective teamLab, engulfs spectators in a dystopian future replete with LED lighting, virtual luminous planes, and kaleidoscopic environments – a fruitful union between seemingly disparate realms of artistic expression. While incorporating new projection technologies into scenography can create a thrilling visual experience for the audience, this alone does not make it an immersive experience.
The user experience is still passive.
Today's performing arts producers have access to an ever-widening range of augmented reality (AR) sensory technologies that create new avenues for audience engagement, although much R&D remains to be done. What will replace the age-old infra-red headsets in theaters that offer sound enhancement to those who need it? With millions now enjoying captions on their televisions, how can captioning become a normal part of every theatrical experience? Can we leverage new oculus technologies to bring the stage action closer to audiences sitting in the second balcony?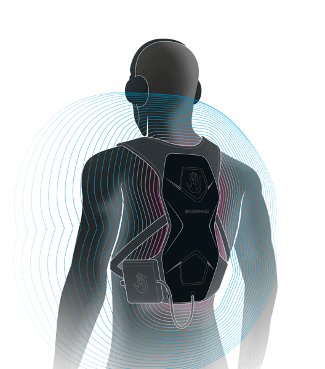 The commercial entertainment sector will continue to ratchet up norms and expectations. Almost all audience members at arena concerts will have augmented experiences within the next few years. The recent collaboration between Live Nation and Snapchat allowed users to select digital visual filters to overlay on the real experience, find friends in the crowd, and see close-ups of the stage. At Coldplay concerts, audiences can request SUBPAC vests. The patented tactile audio device delivers deeply immersive and nuanced bone conduction sound with far greater resolution and range than traditional speakers and headphones. Initially intended for the deaf, the experience sets a new standard for audio – i.e., listening with both ears and bodies.
With the advent of multisensory stimulation chairs from companies like CJ 4DPLEX in cinemas, news of Apple's $1 billion investment in the movie sector, and IMAX's rollout of live events to its network of large format cinemas, a notable transformation towards immersive sensory experiences is on the horizon. For conventional theaters, this shift could give rise to cutting-edge ergonomic recliners featuring integrated adjustable sound amplification, support for state-of-the-art personal audio devices such as headphones, and the introduction of pioneering mixed reality headsets.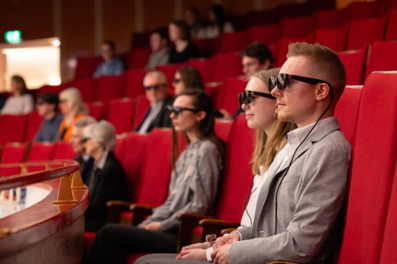 Deutsche Oper am Rhein and Vodafone are conducting a prototyping study to test AR integration in opera performances. A select group of viewers will be equipped with "digital opera glasses" or technically smart glasses, allowing them to zoom in on the action, see captions of sung words, access background information on the plot, and see animated insertions.
While public interest in location-based immersive experiences will grow dramatically over the coming years, there is still much work to do to understand how to enhance experiences for audiences in conventional theaters and concert halls. This is a systemwide issue affecting every nonprofit arts presenter in every marketplace. It boggles my mind that funders are not heaping millions of dollars into a coordinated program of R & D to solve this challenge for the benefit of the entire sector and audiences nationwide, both young and old, who need a little help understanding what's happening on stage.


WolfBrown Presents: Making Sense of the Landscape of Immersive Experiences
We are hosting Making Sense of the Landscape of Immersive Experiences for a second time on May 22- 23, 2023. This two-day intensive seminar in Detroit will update performing arts administrators on the latest developments in immersive experiences. We provide a unique opportunity to enhance your knowledge in the field, network with other professionals, and begin to develop concepts for new immersive program ideas. Registration is open until May 1.