This summer gave me a much-anticipated break – a time to reflect and assess the rapidly evolving landscape of immersive experiences. Rather than overwhelming you with updates on individual productions (which is becoming increasingly challenging), I'd like to focus instead on high-level shifts in the marketplace in terms of supply and demand.
There is evidence to suggest that the immersive paradigm is starting to take on a more defined structure concerning the production and distribution of new content. Much like the growing nervous system of a young child, this steady evolution is forging new kinds of spaces, formats, and communities.
The audacious decision by the Venice Film Festival to turn the entire Lazzaretto Vecchio island in the Venetian lagoon into a global stage for artistic immersive experiences particularly struck me. An island that once isolated those afflicted by epidemics now gleams as a symbol of rebirth in the post-COVID era, celebrating resilience and innovation in the immersive cultural world.
In keeping with its tradition, the festival showcased works of unparalleled depth and quality. Among the most notable was Celine Daemen, whose 2022 debut with "Euridice" was followed by another evocative virtual reality experience, "SONGS FOR A PASSERBY." This work of art offered participants a momentary detachment from reality, guiding them toward introspection. No fewer than 20 immersive works were featured. A comprehensive list is available on the Venice Immersive portal.
High-culture immersive experiences are gaining popularity and are beginning to overshadow more mainstream offerings. Emblematic examples include "Floating with Spirits," which pays homage to the Mazatec shamanic traditions. Additionally, "First Day," immersed viewers in the wartime situation in Ukraine. On a more energetic front, the standout is Fatboy Slim's concert, "Eat Sleep VR Repeat," a live digital event in the ENGAGE VR platform last April.
And it is indeed the media pioneer Fatboy Slim who teamed up with David Byrne to push the boundaries even further with the immersive musical "Here Lies Love." In a radical departure from the 100-year tradition of fixed-seat Broadway theaters, the parterre seating was entirely removed and replaced with a flat floor space. This change allowed attendees to not only observe the performance but to actively participate, occasionally interacting directly with the cast. This innovative design – a multifaceted set that evolves and adjusts based on the scene – brought forth unique challenges for stage managers and actors. The fading of the 'fourth wall' becomes evident as performers directly engage with audience members in bits of drama and choreography. I had the privilege of experiencing this musical in person. It was followed by an impromptu "after-hours" DJ set by Fatboy Slim himself. Witnessing an older audience first engage with the musical and then dance to the high-paced EDM beats of the DJ set for more than 4 hours was utterly electrifying.
The immersive transformation sees islands, warehouses, and factories turning into cultural hubs, historic theaters evolving into participatory arenas, and a new breed of high-tech, purpose-built immersive venues being opened around the world.
As with every artistic movement, however, there are both successes and failures as artists explore new frontiers and the marketplace matures. Amidst these blossoming successes, there are unmistakable signs that the immersive evolution is still in an unstable phase. This was highlighted when news emerged that Lighthouse Immersive, the renowned Canadian-American company behind hits like Immersive Van Gogh and the Disney Animation Immersive Experience, filed for bankruptcy. While the exact reasons are not public, I can only imagine the herculean challenges of managing a distribution system of 24 immersive venues. Even though products like Immersive Van Gogh were met with high levels of public interest, sustaining this surge of demand is another battle. Such challenges are typically faced only by the brave – those who blaze new trails with machete strokes in the jungle. Naturally, we hope for the best for this innovative company.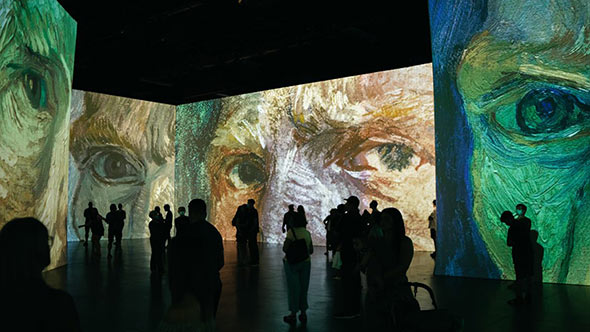 In fact, it was a partnership between Lighthouse Immersive and the Blumenthal Performing Arts that brought the Immersive Van Gogh to Charlotte, generating substantial revenue in a time of deep crisis. It also illustrated the potential for rewarding partnerships between nonprofits and commercial producers.

WolfBrown is currently engaged by the Charlotte Symphony Orchestra and Blumenthal Performing Arts, jointly, to undertake an initial phase of original market research to bring more definition to the marketplace for immersive experiences in Charlotte and to test demand for types of immersive experiences following the huge success of Van Gogh. Tom Gabbard, CEO of Blumenthal, is laying the groundwork for a permanent venue for immersive experiences, which could be the first belonging to a major nonprofit institution. Anticipating the new creative possibilities offered by such a venue, the Charlotte Symphony team, led by CEO David Fisk, is exploring how to invest most strategically in the landscape of immersive programming.
As more and more nonprofit arts organizations pivot to embrace this aesthetic movement, there is growing interest in repurposing underutilized "black box" spaces and other types of flat floor spaces for immersive projects. This transition will require more than just refurbishing these rooms and installing projectors, however. At its core, this is interdisciplinary artistic work requiring a high level of scholarship and artistry in concept, design, and production. Technology can play a major role, or no role at all. Even with a strong artistic concept, success will ride on the quality of the user experience.
An increasingly educated public, voting with their feet, will sort out weakly conceived experiences from strongly conceived experiences. As the marketplace rapidly matures over the next few years, we, too, must mature in our understanding of the immersive paradigm. We're faced with dizzying highs and disheartening lows, brazen commercial exploitation of unprotected intellectual property, and a lingering ambiguity over what truly makes an experience "immersive." Through all this tumult, one thing remains certain: the immersive evolution is relentless and inevitable.
P.S. I'll be attending the opening of The Sphere in Las Vegas and hope to write next month about the role of visual stimulation in the user experience. I'm also thinking more and more about reports of the "death of the attention span" of younger consumers, which I believe are greatly exaggerated.