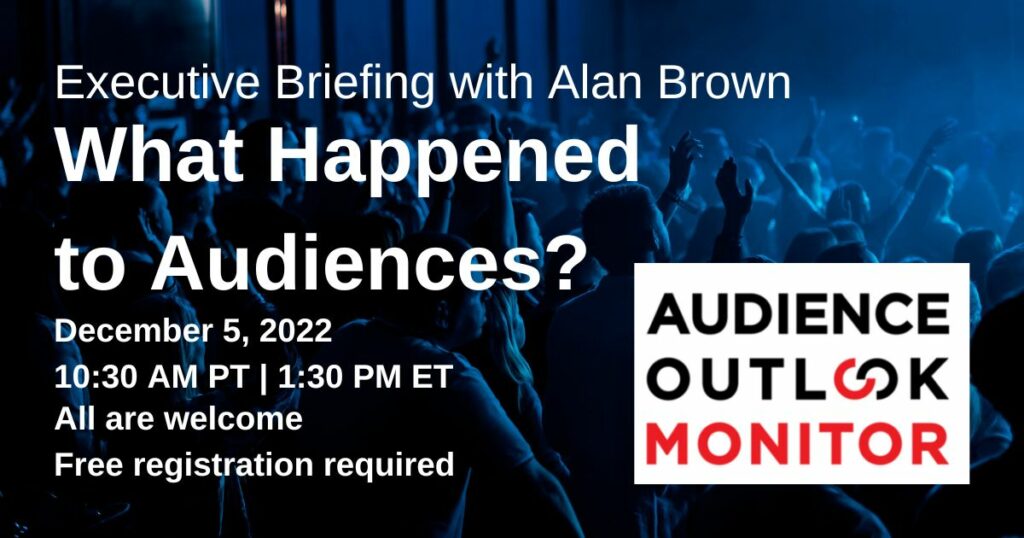 Register Now: Monday, December 5 Executive Briefing
Two years and nine months since the onset of the Covid-19 pandemic, audiences have largely adapted to the new normal in which Covid-19 is an ongoing risk alongside other health risks, old and new. In this final briefing on the Covid-19 study, Alan Brown will take stock of findings from the last phase of the Audience Outlook Monitor study, July-Nov. 2022, including new questions about programming preferences and pre-/post-pandemic shifts in consumption behaviors. Against the backdrop of sobering box office data, Alan will provide an overview of factors affecting demand and reflect on forward-looking strategies for navigating the next few years.Join us!
Date: Monday, December 5, 2022
Time: 10:30am PT/1:30pm ET (30 minutes).
Cost: Free | Register
---
WolfBrown Presents: Making Sense of the Landscape of Immersive Experiences

Join us for a two-day intensive seminar for performing arts administrators
While nonprofit arts organizations work to rebuild audiences post-pandemic, the commercial entertainment landscape has shifted dramatically. Producers of immersive experiences of all kinds are extracting millions of dollars in demand for live entertainment from major markets across the US. This two-day intensive professional development seminar on January 23-24 in Detroit will support participants in gaining a sense of the range of new programming opportunities in the augmented, immersive and virtual reality programming spaces. Registration is limited to 12 to 15 individuals.
The January seminar kicks off our Immersed in the Future initiative – a multi-year program of research and field learning activities supporting arts organizations in developing new experiences that speak to a younger and more diverse public. And, yes, we'll debut a separate newsletter of the same name, exploring all thing immersive.
---
Update on Plans for 2023-24
Audience Outlook Monitor will launch as an on-demand research service in early 2023, drawing on the cohort model of study participation to keep costs low. Details will be available through this newsletter and on the audienceoutlookmonitor.com website in January. Everyone will be encouraged to join the Audience Outlook Monitor Community, a free professional development program for arts administrators seeking a deeper understanding of audiences and audience development. From there, member organizations can opt-in to individual surveys on a pay-per-deployment basis, either in cohorts on a fixed schedule, or on-demand at any time.