This past summer, the Cambridge office of WolfBrown together with our colleague, Stanford Thompson, experimented with a three-day workshop designed as a deep dive into the skills needed by a next generation of arts and cultural leaders.
Seven home cities, four men, four women, five leaders of color, three white folks, and everyone dead set on figuring out how to combine candor, vision, experience, innovation, and civic engagement. The sessions were a combination of familiar forms of vertical mentoring, enriched by the kind of lateral mentoring that only peers can provide. Below are reflections on what all of us learned, what is "sticking" as these leaders have re-entered their organizations and communities, and some thoughts about what we might do differently.
Contributions
---
To Learn, Teach
By Dr. Thomas Wolf
What is the best way to provide "technical assistance?" Here in the Cambridge office of WolfBrown we have nearly a century of experience in classrooms, at conferences, at foundation-sponsored gatherings, and on-site at arts and cultural organizations. We have been involved in everything from one-on-one coaching to teaching a MOOC (Massive Open On-Line Course) serving tens of thousands of students in over 100 countries. But, when Stanford Thompson challenged us to put together an intensive experience for leaders like himself, for the first time ever, we had a chance to design something from scratch with no pre-conceived notions and no institution or funder or client telling us what they wanted. After months of planning and interviews, we realized we wanted to invite people who would bring perspectives that would stretch our own and other participants' ideas and who would join us in a challenge-centered curriculum.
Early on, we were clear about the curriculum. It should include a mix of presentation by participants (describing challenges they faced), response and discussion, and old-fashioned instruction from Dennie and me on topics where participants said they were challenged, including:
Leadership – specifically the relationship between executive directors and boards
Growth strategies – capital campaigns and planned giving
Evidence of impact – different ways to think about demonstrating public value
But, as we planned, we realized content was far from enough. We also needed:
Intimacy: The group should be small enough so that each person would have sufficient time to describe a core challenge in his or her organization and work life and to have the group make serious efforts to respond with suggestions and insights.
Openness: We wanted people who had demonstrated energy, curiosity, and an openness to new (and other people's) ideas.
Shared mission: The group should represent organizations that were roughly similar – all participants were from arts organizations that served young people (though in at least one case that was a secondary activity). The group should be at a similar point in their careers and in similar positions – we chose mid-career executive directors all of whom wanted to take their organizations to the next level.
Difference: Participants should be different enough so that we would not get bogged down in "insider" talk – our group's organizations included theatre, music, multi-disciplinary, and an arts facility. This heterogeneity mattered-the leaders included five people of color and three Caucasians, equal numbers of men and women, humans ranging from 30 to 50.
Candor: The deliberations should be off the record. People should be able to be honest, share concerns and problems in confidence, and not feel that they had to "sell" themselves or their organizations.
Care: Plenty of prep work (research, interviews, background reading, a carefully-crafted agenda) should clear the floor for individuals to present a core organizational challenge. We should stay together through dinner discussions over good food. The event should be held in an inspiring place – preferably somewhere with a rich history of arts and culture. We chose Rockport, Maine where Dennie and I have deep roots in the mid-coast cultural community.
Intensity: We should begin with a welcome dinner (actually a clam and lobster bake) to get acquainted so that we need not spend time the first day with preliminaries. Our working sessions should be two full days, with breakfast and lunch delivered so we never had to take long breaks for meals.
Flexibility: After the first day, we should spend a little time reflecting on whether the sessions were meeting participants' needs and be flexible to make changes if necessary.
Would we change anything if we did it again? Perhaps…times and situations evolve. But for ourselves -those intense conversations were the best possible outcome for the so-called "instructors."
---
The Balance of Experts and Allies
By Stanford Thompson, Executive Director, Play On Philly
As a trained professional orchestral trumpeter, I learned my most important lessons about leadership through perfecting what came out the other end of the instrument and doing that in perfect synchronization with 100 other musicians. Becoming a skilled musician and ensemble contributor required three key ingredients:
The drive and determination to push myself to learn skills that lay beyond my current capabilities;
The ability to sustain a mentally and emotionally demanding process over many years;
The willingness to accept expert and peer coaching/criticism as a part of my professional development.
As it turned out, these same three ingredients have become key to my subsequent development as a non-profit leader. In my view, they differentiate high performers in our field from merely very good and ordinary ones. But, in becoming a non-profit leader, I often struggled to find a professional development experience that matched the effectiveness of my musical training and a set of peers that could inspire and challenge my thinking the way my musical colleagues often did.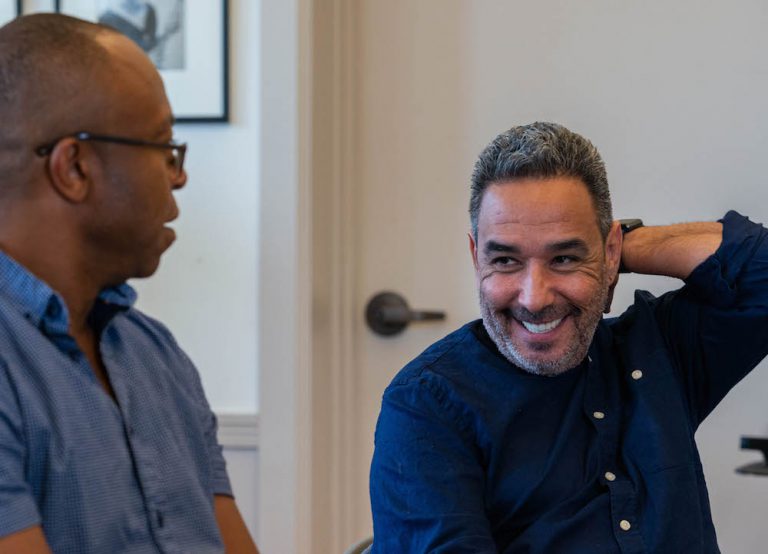 In 2010, when my organization, Play On Philly (PoP), launched, I was entering an ecology that consisted of some of the country's oldest and most respected arts education organizations. It was a year after the Great Recession and the nonprofit ecosystem in Philadelphia was fragile at best. I had to move quickly to make PoP unique. With a year of non-profit management courses and a dozen workshops behind me, I had more than enough big ideas. What I needed was hard-driving, focused advice about building the specific institution I wanted to design and run. I went after experts who knew my field and who set me the hardest assignments:
Joe Kluger, Principal at WolfBrown and former President of the Philadelphia Orchestra, sat with me for a year prior to our launch to set "SMART (specific, measurable, achievable, realistic, and timely) Goals." These helped me draw up a framework for achieving a deeply personal mission by clarifying my ideas, focusing my efforts, and using limited time and resources productively.
Beth Babcock, President and CEO of Economic Mobility Pathways, worked tirelessly to help me create a logic model and organizational development strategy that ultimately secured a $300,000 angel investment. Subsequently, we attracted over $2.5M in capacity-building support by the end of our second year.
Drs. Dennie Palmer Wolf and Steven John Holochwost, Principals at WolfBrown, challenged me to define what POP would deliver – how exactly would students be different if they spent years in our program? Just how willing were we to invest in longitudinal research in order to measure what our program was producing and how?
But it wasn't only the experts who helped me. As in my trumpet training, I learned an equal amount from my peer network as fellow executive directors openly shared their challenges as leaders. Our conversations as allies during breaks at national conferences and in late-night phone calls were occasions when we could be vulnerable and work through issues we simply could not untangle in board rooms or senior staff meetings.
It was this combination – experts and allies – that I was seeking when I conceived of the leadership retreat in Rockport. Seven of my colleagues and I shared our work, challenges, and ideas with Dennie and Tom Wolf in order to build an agenda that would benefit all of us. We learned new ways to think about and measure evidence of impact that go beyond measurements that simply motivate funders to support our causes, we explored solutions we could pursue to help improve our board governing structures, and we considered capital campaigns and planned giving as strategies for growth.
As it turned out, the event provided an opportunity for my colleagues and me to step back from our usual work lives and deeply reflect on our roles and responsibilities, utilizing the challenges each one of us faces as the key aspect of the "curriculum." We left feeling recharged and filled with the inspiration that originally brought us to the work we do.
---
Survival and Value
By Dr. Dennie Palmer Wolf
What would we change in the retreat? Certainly not the focus on challenge, or the intimacy and candor, or the range of perspectives. But I would rethink the balance between what I will call survival and values.
Much of the retreat focused on the hard-to-argue with pressures of governance, development, and capital investments – all vital to keeping the lights on and the programs rolling. But next time, I am going to ask participants to think about organizational challenges in an expanded way: one that combines survival and value. This would mean also asking:
Are you doing work that's needed?
What is your organization's contribution to the ecology (the neighborhood, city, and the sector) in which you work?
How good is your work? How do you know? Could it be better?
Who could you learn from?
Do your employees learn and thrive?
A critic could easily say, "Abstract, beside the point, nice if you have an endowment." But I would say, organizational survival is more than lasting. Success isn't only growing. For mid-sized organizations seeking to go to the next level, distinctiveness and capacity to deliver value matter. Asking and answering exactly these questions of value can/ought to inform every aspect of operations:
Branding: What do the photos/typeface/titles on the webpage say about what the organization stands for?
Program: How do your choices add to the civic/artistic life of your community?
Governance: How do you find new board members who deeply understand and fully support your mission and your leadership?
Civic presence: Where are you, your staff, or your families and youth speaking out?
Grant writing: Can you portray what is distinctive about your organization? What do you deliver that no one else can? What's the compelling evidence?
Development: What new/different metrics of success do you want to convince board members and funders to use when considering your work?
Staffing: Are you raising a next generation of leaders for your field?
These questions aren't luxuries. They are essential – more like breathing or having a heartbeat.
---
The Long Thereafter: What Matters is What Sticks
Reflections from Taneshia Nash Laird, DeLashea Mya Strawder, Myka Miller, Lecolion Washington, and Lorna Jane Norris
Way too often we evaluate a program, an intervention, or an experience – BANG – right as it ends. But, in truth, value and/or impact, emerges. So, at two months out, we asked participants to take stock and to help us think about what to emphasize, add, and change in future work. What matters is what sticks. Here are their reflections.
Yes, to Survival and Value
Taneshia Nash Laird, President & CEO, Newark Performing Arts Corporation d/b/a Newark Symphony Hall

I speak as someone who has done many trainings and two fellowships in my 20+ year career, so I can say yes to the intimacy, openness, and shared mission that were essential to the convening's success. And, yes, to the importance of balancing survival and value modes. Those specific questions should be integral in us (re)setting our organization's values as a nonprofit. So I'm going to post those questions on my bulletin board so that I can learn to live more in the value mode than the survival mode.

Intentional Room for Visioning and Dreaming
DeLashea Mya Strawder, Artistic Director, Mosaic Youth Theatre of Detroit
As I've come back home, I've spent a lot of time in the space of value and survival alongside stability and visioning. I'm careful to hold space for visioning and dreaming, so that there is intentional room for creativity, innovation, and growth. The gentle, yet deliberate, facilitation helped me have the time that was necessary to unpack and sort through some critical points with allies and experts allowing me to refocus in a noisy time.
How Do We Portray Our Work?
Myka Miller, Executive Director, Harmony Project
I've been thinking a lot about the construct of non-profit organizations and how/why they were started by white men and women back in the late 1800s. What are our organizations still carrying around TODAY that was created out that one-sided view of "charity"? How does that history affect how we talk and write about the work our organizations do? How we describe the young people and communities we work with? How we think of ourselves and our staff and whether we are treated like "the help" or the "visionaries" that we are? Until our retreat conversations, it had never occurred to me that, as leaders, we should think hard about these issues and brave talking to board members, funders, and those who create grant applications and let them know how it feels from our perspectives and from our students' perspectives. If we don't say anything, who will?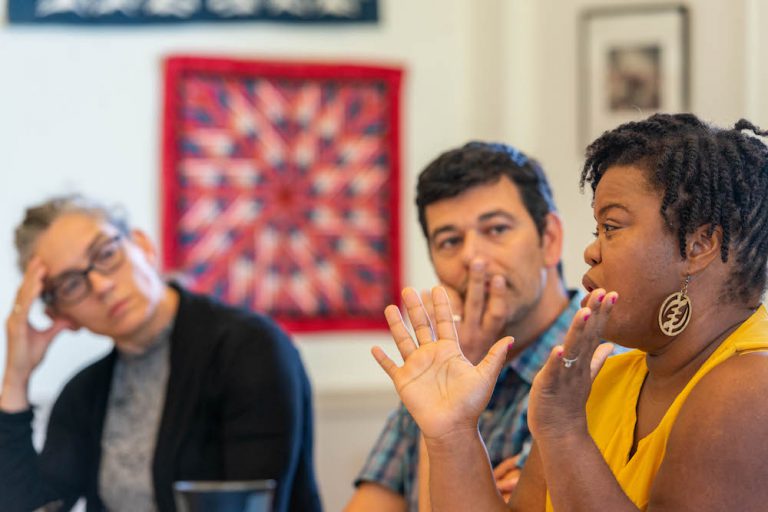 Where Gender and Race Come Together
Lecolion Washington, Executive Director, Community Music Center of Boston
One of my key takeaways was around the manner in which organizations are supporting women, particularly women of color. It was not lost on me that there were some similarities between the experiences of the women in the room. It really forced me to reflect on how the women in my own organization are being supported and championed, not only by the organization, but also by me, in particular, as the Executive Director. Thanks to the courage and openness of the women in our retreat, several powerful conversations have been sparked here at the Community Music Center of Boston. It was truly impactful.
Investing in Step-back Time
Lorna Jane Norris, Executive Director, Turtle Bay Music School
Before I became an Executive Director, a colleague I had known for many years said that the hardest thing about being an Executive Director is that you can feel like you are failing a little bit at everything you are doing. I reassured her at the time, only to discover once I became ED, that she is absolutely right. It's not so much that you question your competency, or that you experience an impostor's syndrome, it's more that no one thing gets enough of your time.
When (not if) an organization experiences a crisis, its director is driven deep into survival mode. S/he wakes up questioning her/his impact and influence, even though that work is in fact being done, and some of it, if not most of it, is making a difference in the lives of others and the world.
One thought percolating since Maine: Every nonprofit, no matter its size, needs to budget "step back" time for its Executive Director. This could take many forms:
Paid time/tuition for directors to leave daily operations to reflect with colleagues (as we did in Maine)
Stipends for several "critical friends" from similar organizations to spend a day visiting, observing, discussing, and problem solving
Travel time and expenses to see how other like-minded and like-missioned organizations handle similar pressures
Stepping back to look ahead.