Every Sunday morning I'm always impressed to see full-page advertisements in the New York Times for immersive exhibitions. From Van Gogh to Klimt to the Immersive King Tut, during 2022 it was difficult to follow any media without encountering two buzzwords: "IMMERSIVE EXPERIENCE."
I keep wondering – how did these commercial production companies earn the attention of the general public in such a short period of time, gaining ubiquity in almost every communication channel?
The sheer number of new and upcoming immersive exhibitions is astonishing, and the millions of dollars being invested in immersive technologies, formats and spaces is telling a clear story – that this is not a passing bubble but an endemic form of entertainment that activates a wide cross-section of the marketplace.
Visionary nonprofit companies such as Punchdrunk and well-financed commercial experience producers such as IMG, CluedUpp, Fever, and Secret Cinema have secured partnerships with large companies such as Niantic and Disney and earned the luxury of focusing their efforts exclusively on the evolution of storytelling in the creation of transformative, interactive experiences – a burgeoning part of the multi-billion dollar market for "location-based entertainment."
At the same time, large companies like OverActive Media and Madison Square Garden Entertainment Corp. are investing billions in next-generation Augmented Reality (AR) facilities such as the MSG Sphere in Las Vegas – which will completely redefine the live entertainment experience.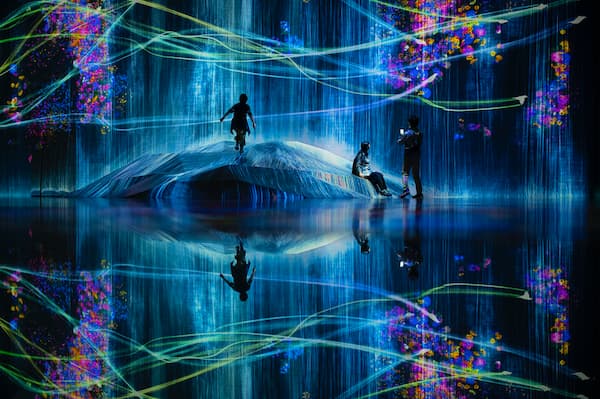 Just as the arts sector reconciles with the longer-term prospects of the onslaught of digital programming brought on by the pandemic, the future of digital programming is rapidly shifting towards the Virtual Reality (VR) environment where more visually and aurally immersive experiences are the norm. Organizations such as the National Theatre, the Paris Opera and the Finnish National Opera and Ballet are already committed to a VR future.
Nonprofit arts organizations are now thrust into a defensive position of reacting to tectonic shifts in the entertainment marketplace climate that were quite evident before the pandemic, but now blatantly obvious. Making sense of the chaotic post-COVID marketplace for immersive experiences has been a focus of our research at WolfBrown for over a year, and is the purpose of this newsletter. What are the most promising artistic possibilities in this confusing landscape of technologies and formats? How can we extend our mission-driven artistic work into the augmented, immersive and virtual programming spaces, and find new revenues and audiences in the process?
While many in the arts sector are experiencing a very real sense of loss, we think the emerging landscape of immersive programming represents a once-in-a-lifetime opportunity to reimagine programming for the next generation. We look forward to being your thought partner and trusted guide through this journey. Fasten your seatbelts, it's going to be a bumpy ride.
Watch Our Webinar on Baseline Research

On June 27, 2022 Alan Brown presented a 90-minute session for the membership of OPERA America entitled, "The Future of Immersive Programming in the Arts." With gratitude to OPERA America, we are pleased to share a recording of this session for those who are interested in seeing the 2021-22 baseline research on immersive experiences.