By Alan Brown, Managing Principal
WolfBrown's commitment to a more equitable and more sustainable future for the arts and culture sector is reflected in our newly refreshed brand, our all-new website, and our reconfigured communications channels. Join one of our communities of practice to stay in touch.

Our Commitment to a More Equitable Future
We will use the relationships, tools, and privileges we carry to advance down the long but necessary road to a more democratic culture, step by step. In partnership with our many collaborators, we will actively work to…
Bring more diverse voices into our research and planning processes
Nurture and learn from young consultants and researchers from diverse backgrounds
Support organizations that seek transformational change
Design programs, research, participatory evaluations, publications, and convenings that challenge and reverse fundamental inequities, replacing them with more innovative, inclusive, and sustainable practices
Lay the groundwork in research for exciting new augmented, immersive, and virtual reality programs that will speak to a broader and more diverse public
Collaborate with others to develop new approaches to strategic planning that center cultural democracy
Advocate for systemic change in funding structures to create new, permanent resources for artists and organizations representing historically marginalized populations and cultural traditions
Publish research on how deliberate program designs can open up pathways for diverse populations of young adults to enter and persist in their creative practice
Bring scientists, artists, and educators together to question basic assumptions about how we understand the role of the arts in human development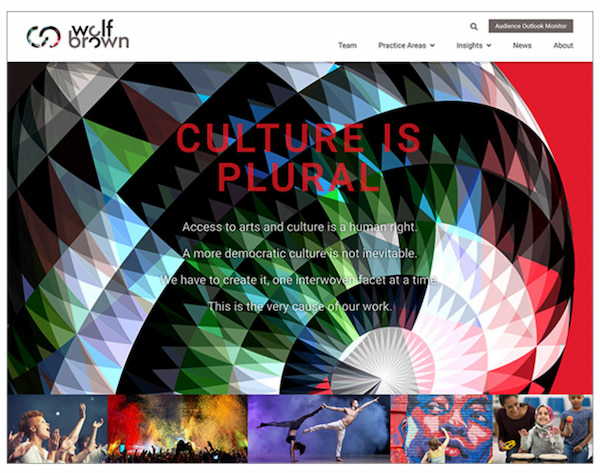 Join One of Our Communities of Practice
Our new website and refreshed brand were created in partnership with Cahoots Design. Many people use our site to access publications, reports and blog posts authored by WolfBrown consultants. You'll also find a selection of video recordings of conference presentations, and an archive of our various newsletters.
In addition to On Our Minds, our flagship newsletter, we'll support three specialized communities of practice beginning in 2023:
Amplifying Creative Opportunities – dialogue and emerging practices in building equitable systems of access to arts and cultural experiences;
Immersed in the Future – our initiative to help nonprofits navigate their way through the complex programmatic space of augmented, immersive, and VR experiences; and
Audience Outlook Monitor Community – a community of research-minded arts professionals with a common interest in more deeply understanding audiences and audience development.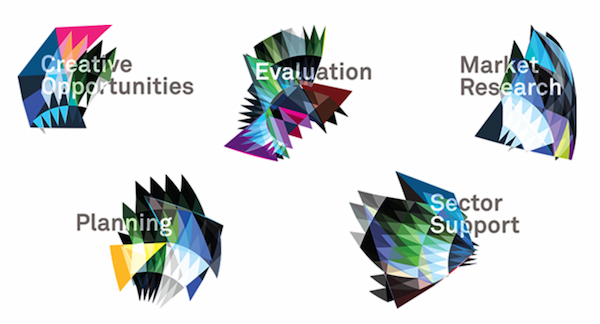 What's Ahead for the Arts Sector?
We, too, are sailing in uncharted waters.
Since the onset of the COVID-19 pandemic in 2020 we've been reflecting deeply on what research and planning support arts and cultural organizations and their funders will need to thrive over the next five or 10 years. Many of you have generously shared your aspirations and concerns about the "new normal."
If we are to be helpful thought partners in these times of re-imagining the role of arts and culture in human lives and communities, then it is imperative that we step up our research methods, our facilitation approaches, our analytical frameworks, and our understanding of the many contexts in which our clients are re-inventing their work.
More than anything, we recognize that problem-solving will require a broader range of voices at the table – especially voices of those who've been excluded, historically, from the power structures that shape the future.
We look forward to your partnership in the months and years to come.