The number of new immersive productions coming to market in early 2023 is dizzying. Will nonprofit arts organizations figure a place for themselves in the immersive paradigm? The stakes are growing higher by the day.
Commercial producers are flooding the market with immersive experiences that exploit art and artists that are free from copyright protection. For example, Lighthouse Immersive, the Canadian-American firm with 16 dedicated immersive facilities across North America, is investing in experiences based on the classical music legacy. Last month, the company presented an immersive adaptation of The Nutcracker in 11 American cities. Now, its artistic team is developing a new generation of classical music exhibitions starting with "Mozart Immersive: The Soul of a Genius," slated to open in Chicago on March 10th.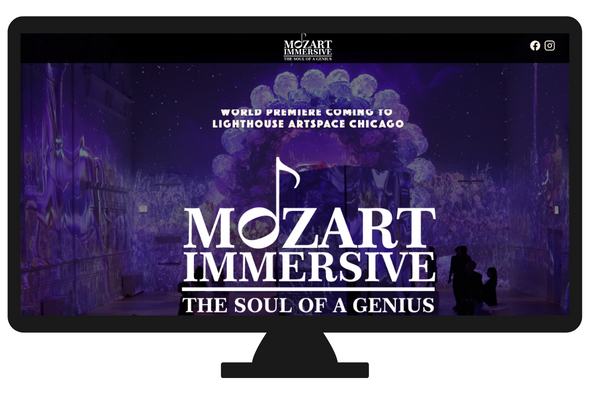 According to the promotional trailer, the new production will feature (as usual) monumental projections of AI digital art, used as visual storytelling about the character of Mozart, along with a musical component developed in partnership with the Latvian Kaunas City Symphony Orchestra and Choir, under the direction of four-time Grammy Award nominee Constantine Orbelian. We suspect that an upgraded audio system will be a major component of the user experience.
The interpolation of classical repertoire into the immersive paradigm surely evokes strong emotions, cries of "foul" and even a sense of loss. In the words of Joe Pine, the father of the experience economy, "Either you create an experience, or you (will) become a commodity." In light of recent immersive treatments of legacy art and artists, it seems clear that we've entered a new period of "commoditization" of art and artists. Commercial producers like Lighthouse Immersive and Fever are leveraging unprotected "legacy" assets for financial gain by reformatting the user experience to appeal to a broader audience. Many nonprofits, meanwhile, consider these assets as "core repertory" (e.g., the Nutcracker, Messiah, Mozart).
For performing arts organizations, this presents a dilemma similar to the one experienced by museums, who were caught unprepared for the onslaught of Immersive Van Gogh three years ago. Do we sit quietly in the bubble of "authenticity" while commercial producers run away with demand, or do we enter the immersive marketplace with high quality, highly creative experiences that both educate and expand the marketplace?
Comparisons of the quality of immersive programs with conventionally formatted programs by professional artists are moot. These are different products for different audiences. Immersive experiences will not replace traditional classical music presentations because they offer classical programming in a novel and innovative format that appeals to consumers who are open to classical music but not interested in conventionally formatted concerts in traditional venues.
According to an insider, Fever is likely to become the leading producer of classical music concerts worldwide. People do not attend Candlelight Concerts because of the artists, and may or may not even care about what music is on the program. They attend for the romantic atmosphere and the overall experience. You don't have to be knowledgeable about classical music to choose a program. It is bitingly ironic that commercial producers were the ones to figure out how to market classical music to a broader audience, after decades of supposed audience development work by orchestras. Whether orchestras can bring a new level of quality and creativity to immersive experiences based on classical music remains to be seen.

The integration of sensory elements into performing arts programs has a long and storied history, but recent advancements have opened up new creative possibilities. Take, for instance, pianist Lara Melda, winner of the BBC Young Musician 2010, who is set to perform a program of Erik Satie's music within the Van Gogh immersive exhibit in London.
Meanwhile, Jordi Sellas, a Barcelona-based producer CEO of the organization IDEAL, presents his latest creation, the "Dalí Cybernetic" exhibit, featuring a live immersive concert called "Dalí – The Thinking Machine." This concert, which takes place on selected dates, features a pianist equipped with an EEG headset that transforms their brain activity into a real-time visual display, adding a new level of interactivity to the performance.
These two examples illustrate a growing trend of digital cultural centers as venues for concerts, allowing for new levels of creative exploration of music and art.

WolfBrown Presents: Making Sense of the Landscape of Immersive Experiences
We are delighted to have recently hosted the first edition of the seminar Making Sense of the Landscape of Immersive Experiences. For those who missed the first session, we will be hosting another one on May 22- 23, 2023. It is important for arts administrators to keep themselves informed and up-to-date on the latest developments in immersive experiences.
This seminar provides a unique opportunity to enhance your knowledge in the field and network with other professionals. Pre-registration is available for those interested in attending.